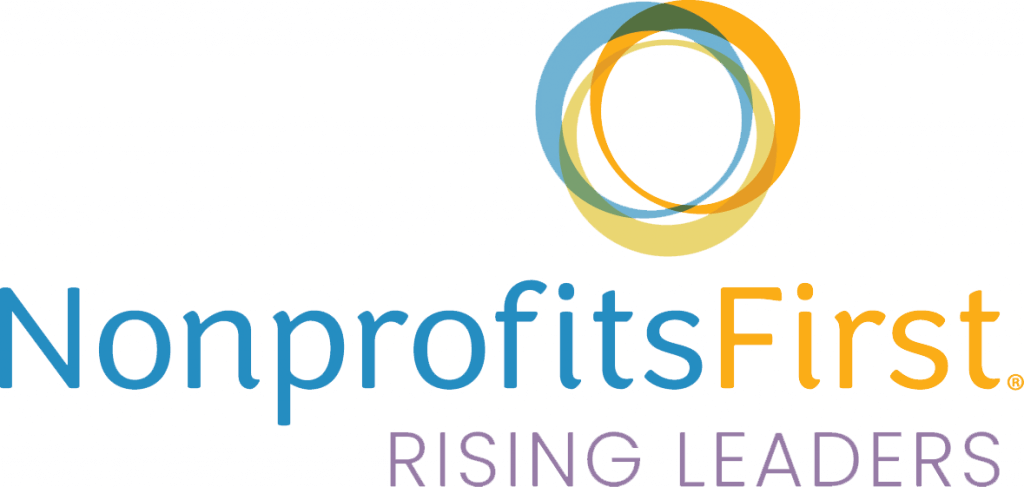 Leading a cause and solving complex issues takes determination, discipline, and know-how. Nonprofits First created the Rising Leaders program in 2005 to launch aspiring leaders toward their highest level of impact and success. Rising Leaders is the only local training of its kind, transforming emerging talent into the sector's new generation of leaders.
The comprehensive eight-month experience focuses on skills needed by those who are relatively new to leading teams or managing groups of individuals. Participants learn effective strategies to handle significant leadership and organizational challenges.
The multi-session format includes an engaging variety of training techniques including panel discussions with community leaders, group exercises and stimulating activities. The Rising Leaders experience fosters interaction, discovery, dialogue and servant leadership as participants increase their skills to lead the nonprofit field.
The ideal candidate demonstrates high leadership potential in the nonprofit or public sector. The program is most valuable to those who are eager to learn, passionate to serve, excel when challenged, and desire to:
Create change within their agency and field
Demonstrate new models of leadership
Cultivate better ways to work together within organizations
Explore and implement new methods to drive social action
Inspire others to embrace new forms of leadership, structure, and organization
Program Format and Commitments
The Rising Leaders program includes eight full-day sessions (one day a month for eight consecutive months), a ropes course, an intensive overnight retreat, and a service-learning project.
Rising Leaders are expected to attend all program activities. Complete participation is necessary to engage fully with other students and Rising Leaders faculty. Class members with more than one absence may complete the program but will not be considered a graduate within their class year. The opportunity to make up a class may occur the following year.
Rising Leaders are also required to contribute to a service-learning project which involves an additional time commitment. Class members challenged by the time and attendance requirements are encouraged to communicate with their Nonprofits First liaison or mentor immediately.
Critical Skills Training and Curriculum
Introduction to Leadership
Emotional Intelligence
Leadership and Communication
Managing and Motivating Teams
Influence and Persuasion
Understanding your Leadership Style
Public Speaking
Ethics and Leadership
Critical Thinking and Decision Making
Negotiation
Project Management
Leading Change
Leadership and Conflict
Rising Leaders will conduct an extracurricular team service-learning project designed to assist a local charitable or civic organization. Participants work within a team of up to seven classmates and may contribute 10 to 15 additional project hours over the six-month course period. Class members may not choose a project submitted by their organization, and members of the same organization may not serve on a team together.
Examples of projects include: developing a Policies and Procedures Manual; conducting a community needs assessment; preparing a marketing plan; designing a special event. Each service-learning team presents a Pecha Kucha-style (image-driven) PowerPoint presentation for their project agency host at the Rising Leaders completion ceremony.
Individual tuition for 2023 is $1,650 for Nonprofits First Members and $1,850 for nonmembers. Program tuition must be paid in full by the start of the first full session.
An agency may send up to three participants, but supervisors and subordinates may not attend together.
The 2023-24 program begins the week of December 5th, 2023 with an evening intro session on Tuesday, December 6th, followed by the first full-day session on December 9th.
Future full day sessions typically occur on the second Friday of the month, December 2023 to July 2024.
"As a Rising Leader alumna, this class has been so helpful for me professionally and personally. The course gave me tools to assess and strengthen my leadership abilities and improve weaker areas. I highly recommend Rising Leaders to anyone who wants to become a more successful leader, improve communication skills, make better decisions, and lead a team."
Silvia Avila
Director, Pine Ridge Holistic Living Center
The application deadline is 5:00 p.m. on November 3, 2023.
Due to rolling acceptances, we encourage you to apply early.
Thank You to Our Sponsors
Allegany Franciscan Ministries
Childrens Services Council
M&T Bank Wilmington Trust